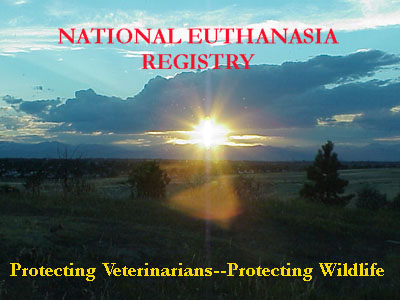 A continuing education program of the Raptor Education Foundation
Established in 1980, the Raptor Education Foundation has been a leader in promoting environmental literacy.
Welcome!
This is the first source for dealing with the proper and ethical disposal of euthanized ranch & companion animals.
VETERINARIANS, DID YOU KNOW THAT...
As a veterinarian, or animal shelter operator, you are liable if you euthanize any animal whose improperly disposed carcass kills scavenging species protected by state and federal statutes.
Fines for killing specific wildlife species (under certain circumstances) can be as high as $500,000 per occurrence, including incarceration. (U.S. Fish & Wildlife Service)
You may be liable for any collateral pollution/contamination of adjacent ground and water under EPA authority, and legal costs under Civil and Criminal law.
The consequences can be disastrous to your reputation and your livelihood.
If your practice involves working with large ranch animals or smaller companion animals, and if you have to face the difficult task of euthanizing even one of these animals, you need to be sure they will be disposed of in an environmentally ethical manner that will not kill wildlife species or poison our ecosystem. Leaving their disposal to chance or good intentions might cost you your reputation, livelihood, significant financial penalties and even incarceration. NER has been designed to support your professionalism and lessen the burden of this very difficult task.
REF Called In as Expert Witness in Breaking News Story
Last night, Monday September 24, 2007 Denver's KMGH Channel 7 began airing a 3 part story about Colorado's Humane Society. Part of the undercover investigation involves euthanized animals being thrown into a dumpster and then disposed of in the local land fill. REF's research into this area back in 1999 showed that such carcasses become toxic time-bombs ready, willing, and able to poison wild animals when they scavenge the carcasses. Investigative reporter, Tony Kovaleski, interviewed REF regarding the National Euthanasia Registry established by REF as a response to educating the public about the consequences of improper and illegal disposal of euthanized animals. Be sure to watch Tuesday and Wednesday night in this series. Thanks to all of our members who have been contributing donations to REF maintaining this important website. Your support is making a slow, steady, and vital difference in providing accurate environmental information available for all who care to understand what is going on around them. Just click...
Understanding the Soup of Chemicals in Our Environment A MUST READ!
One Example Illustrating How Toxins Enter Your Food Web
Prozac in Your Water Supply
REGISTER WITH THE NER AND PROTECT YOURSELF AND YOUR PRACTICE
CAN YOU AFFORD NOT TO?

Cat Kills Eagle

Pet Food Industry Also Involved as Euthanised Pets Wind Up as Pet Food
American Veterinary Medical Association's Report
Corporate and Individual Sponsors Invited to Join
call 303-680-8500 or contact us via e-mail
Copyright © 2000; USNER.ORG. All Rights Reserved.
Last updated: December 20, 2002 02:37:35 PM